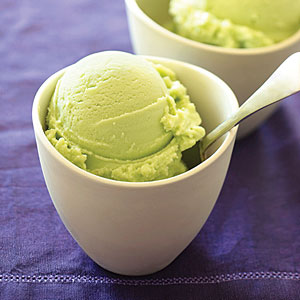 At this point everyone on an AIP diet is fully, completely, and irreversibly in love with avocados. Their versatility is just phenomenal, their creamy goodness is decadent, and the healthy factors – just wow! After a veggie filled dinner I was poking around my kitchen and turned up a perfectly ripe (timing is everything!) avocado and a always handy can of coconut milk. Let inspiration and your sweet tooth guide you through this sweet treat!
Ingredients
1 ½ Ripe Avocado
1 Can full fat coconut milk
1 tsp lemon juice
⅓ cup rice syrup
Directions
Cut the ripe avocados in half and spoon out the creamy center into a food processor or blender of choice. Save the half of the avocado with the pit for another day or meal. They store better as such with a little drizzle of lemon juice to prevent browning.
Blend the avocado and lemon juice together until a smooth consistency.
Your can of coconut milk should be refrigerated overnight so the fat can separate from the water. Remove the can from the fridge and spoon out just the solid fat. The water you can discard or save for another use. Keep in mind that there are health differences in coconut water vs coconut fat!
In a separate bowl using a blender whip the coconut fat until it is a whipped cream consistency.
In the same bowl combine the avocado mixture, syrup, and whipped coconut cream together with your hand blender.
Place the mixture in any freezable bowl and cover the top with plastic wrap to help prevent any browning before the mixture freezes.
Freeze for at least 4 hours and enjoy!
Buon Appetito!