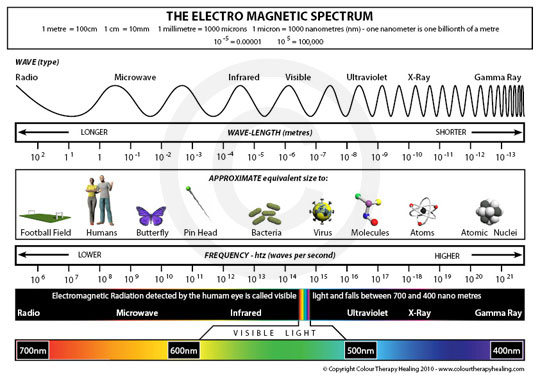 Can light improve my:
Thyroid?

Immune system / Autoimmunity?

Energy?

Gut?

Brain?

and more?
So many of my patients have specific thyroid concerns. Two weeks ago, we discussed that the thyroid is an adaptive organ and it helps us adapt to our changing environment. We expressed the fact that so much of our environment no longer changes because of modern living and technology. This week we are going to discuss the electromagnetic spectrum and radiation.  Our thyroid is our main radiation shield. Therefore, excessive exposure to portions of the spectrum and underexposure to others can exceed the thyroid's ability to adapt.
The electromagnetic spectrum of light includes some frequencies we can see and some we cannot see. Notice in the drawing below that the visible light spectrum is very small compared to what is coming from the sun everyday. We have said in previous posts that all life has adapted to this spectrum that is coming from the sun. The whole spectrum impacts our health in a positive way when it is consistent with the natural environment.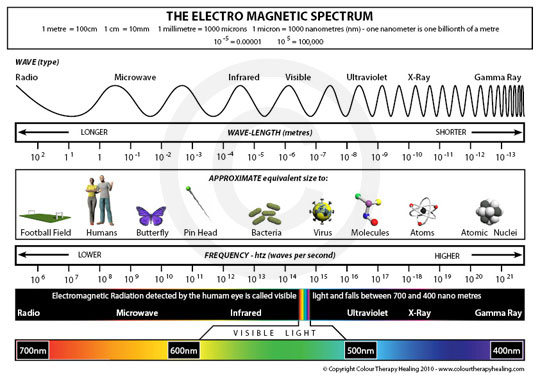 I think it's safe to say that our daily, weekly, seasonally and lifetime exposure to the spectrum has been permanently altered by modern technology; much like food has been altered to give us too much of some portion of the nutrient spectrum and too little of another. We can supplement components of the food equation to bring us back into balance nutritionally. For example, our genetic and evolutionary need for omega-3 fat has not changed in 100,000 years, yet the availability of this nutrient has dramatically diminished in recent decades due to food manufacturing, processing and farming practices and technology. Therefore, we supplement what is deficient and try to avoid what is excessive or lacking in value.
The same philosophy holds true for the electromagnetic spectrum. We can supplement what is missing. For many years we have been told by medical professionals to get as little sun as possible. It has been drilled into our psyche as a nation that the cancer-causing effects of the ionizing portion of the spectrum, U.V. light, must be blocked at all costs. It reminds me of the fat-free craze of the last 40 years.
Both assertions turn out to be terribly wrong. Avoiding fats, and foods that contain healthy fats, leaves our metabolism terribly unbalanced. We get too much of some nutrients and too little of others, and that imbalance can result in several epidemics of modern living: obesity, cardiovascular disease, type 2 diabetes, depression, stroke, attention deficit, and Alzheimer's, among many others.
With underexposure to components of the electromagnetic spectrum and overexposure to other components, we are seeing a causative relationship to many of those same diseases, as well as macular degeneration, sleep disorders, cataracts, diabetes, osteoporosis, and autoimmunity, to name a few. An example of overexposure is the fact that we have introduced WiFi and cell phone technology into our environment without question, yet both of these technologies dramatically increase our exposure to the microwave portion of the spectrum. Is it reasonable to assume that excessive microwave radiation may result in the imbalance we experience? I think so.
Different sections of the electromagnetic spectrum can have very different effects on cell physiology, circulation, immune function, blood pressure, energy production, wound healing, and inflammation. These effects can be local and or systemic.
Here is a brief introduction to the different components of the electromagnetic field and how they can be used as supplements to help us.
Far Infrared

. This end of the spectrum is not visible to the human eye, but these waves will stimulate thermoreceptors and biological chromophores (structures, like receptors,  that can detect infrared wave exposure). Infrared waves will penetrate all tissues of the human body, including skin, muscles, organs, bones, and nerves. Infrared waves will impact

cells, cell membranes, and cell fluids – especially water, DNA and proteins.

Positive effects

of far infrared therapy include:

Enhanced detoxification
Increased release of endothelial nitric oxide

(think of blood pressure and circulation)

Decreased inflammation
Collagen formation
Mitochondrial efficiency

(think of energy production, improved memory, decreased brain fog, reduced fatigue)

Repair of damaged tissues.

(

Wound healing

and

nerve damage

)
Far infrared therapy comes in many forms:
Red and Near Infrared Therapy.

Near Infrared, also called infrared A (IR-A), spans wavelengths 760 to 1,400 nm. This is the first of the invisible light frequencies that is just beyond the red end of the visible light spectrum. Most home therapy devices use these wavelengths. The FDA has approved this form of therapy as an effective solution for several causes of pain (

not the symptoms of pain

). The combination of red light therapy with near infrared energy is being researched for amazing things such as the reversal of

traumatic brain injury

, stopping and healing the debilitating effects of

stroke

and heart attack, and the regeneration of

damaged nerves

and severed spinal cords. I saw the slides of the stroke, nerve and spinal cord regeneration.

Red infrared light therapy works exactly the same way red light therapy works.

Visible red and invisible near infrared energy are absorbed by photoreceptors in each cell of the body.

Once absorbed, the light energy kicks off a

whole series of metabolic events

, stimulating the body's natural processes on a cellular level.

Increase in blood flow allows parts of the body to receive the oxygen and nutrients they need in order to function more effectively.

Regeneration is stimulated.

Inflammation and pain are reduced.
Red and near infrared therapy is delivered with any source in the red and near infrared range:
Low-level laser

Both high- and low-power

LED

Incandescent light source
Blue Light Therapy.

The blue end of the light spectrum is on the opposite side of the red and infrared end. Blue light is the beginning of the visible field which resides next to the invisible ultraviolet waves, which are known for their effect on vitamin D production and skin tanning and burning. Blue light is used for acne and other skin conditions related to precancerous states.
Intravenous Blood Irradiation.

This is a field that started about 25 years ago and the applications are numerous. It is the application of blue, green, or red light applied directly to the blood and deeper tissues of the body for many applications.  
The therapeutic application or supplementation of electromagnetic fields will continue to grow as the research continues to evolve. At the same time, we should take steps to avoid excessive exposure to non-native EMF (electromagnetic fields). Non-native EMF's refer to our unnecessary exposure to cell phones, WiFi, and electrical devices of all types.
This can include simple solutions such as:
Blue light protective glasses and products

when working at computers or watching television.

Reducing the amount of artificial light exposure after dark, especially CFL, LED, and halogen sources of light from fixtures, televisions, or computer screens.

Move sources of WiFi in the home as far away from bedroom as possible.

Use wired internet if possible when WiFi is not necessary.

Turn WiFi off at night when it is not used.

Sleep in completely dark and silent environment.

Use grounding mats as much as possible, and wear earthing shoes or sandals.
Thanks for reading!